Your union won't be official until you obtain your marriage license. Here's everything you need to know before you head to the marriage bureau.
by The Knot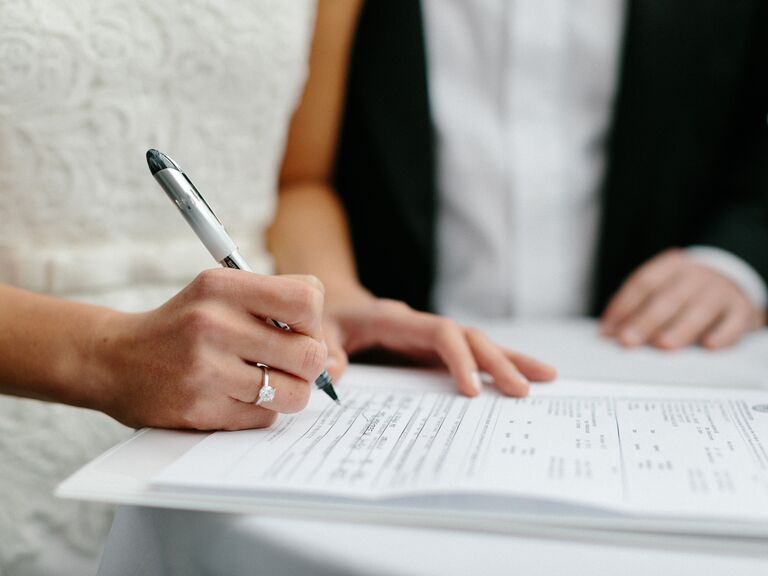 LENS CAP PRODUCTIONS


Amid the blur of organizing your wedding and honeymoon plans, it's surprisingly easy to forget that you actually have to get married on paper. A marriage license is basically your permit for eternal love—the legal confirmation that you and your partner are free and eligible to marry one another. Sure, it's paperwork, but it's still exciting (not to mention necessary).
So where do you even start? The internet will likely be your best bet here. Most, if not all, states have a government website with ample information on what materials and documents are required and the office's contact information. 
Once you know in which municipality (city, district and county) your nuptials will take place, you'll need to locate where to obtain the license. It might be city hall, the city or town clerk's office, or the marriage license bureau in the county where you plan to wed. For example, in Connecticut, marriage licenses are issued by the municipal clerk's office in the town where you'll be married, whereas in Iowa, couples may apply at any county registrar or recorder's office. In some states, like New Jersey, you can simply download a marriage license brochure and the license itself to be filled out by you and your spouse-to-be.
Other than the physical paperwork, it's important to be wary of timing. Some states require a several-day waiting period between granting the license and your nuptials taking place. Also, most marriage licenses are only valid for a window of time—anywhere between 10 days and a year—during which you must have the ceremony, sign the license (together with your officiant) and file for a certified license and marriage certificate.
Requirements do vary by state, but they all want to confirm the basics: that you have proper identification, that you're not currently married to anyone else (if you previously were, you need proper divorce or widowhood papers) and that you're of legal age to marry. A good checklist of necessities includes:
Birth certificate
Parental consent if underage (usually under 18); you may also need court consent in this case
Photo identification (driver's license, state ID card, passport or birth certificate)
Social Security number
Proof of citizenship and/or residence
Divorce decree if divorced
Death certificate if widowed
Florida
Fee charged, but it's lower for Florida residents who have completed a premarital prep course
Waiting period: three days for Florida residents (waived if couple completes the above-mentioned course); no waiting period for non-residents
Issued by county; apply at any county clerk's office
License valid for 60 days
Las Vegas, Nevada
Fee charged; varies by county and required at time of application
Waiting period: none
Issued by clerks of local county marriage license bureau (Clark County); both parties must appear in person
License valid for one year
Officiant has 10 days to submit documentation after the ceremony
Maine
Fee charged
Waiting period: none
Issued by county; apply from local municipal clerk's office
License valid for 90 days
Massachusetts
Fee charged; varies by town or city and required at time of application
Waiting period: three days
Issued by city or town clerk's office
Valid for 60 days
Napa Valley, California
Fee charged; varies by county and required at time of application
Waiting Period: none
Issued by county clerk's office; both parties must appear in person
License valid for 90 days
Newport, Rhode Island
Fee charged
Waiting period: none
Issued by city or town clerk's office
License valid for 90 days
Marriage must take place in the presence of two witnesses who are 18 years or older
New York City, New York
Fee charged
Waiting period: 24 hours
Issued by city clerk's office; both parties must appear in person at one of the five borough offices
License valid for 60 days
Aspen, Colorado
Fee charged
Waiting period: none
Issued by any state county clerk's office; both parties must appear in person
License valid for 35 days
Tucson, Arizona
Fee charged
Waiting period: none
Issued by justice court offices; both parties must appear together in person to
License valid for 12 months